Rahmenprogramm für Ihre Events
At an event space of 750 m² you will find everything what you need for an unforgettable event. The Hofscheune offers space for festivities from 10 to 380 people.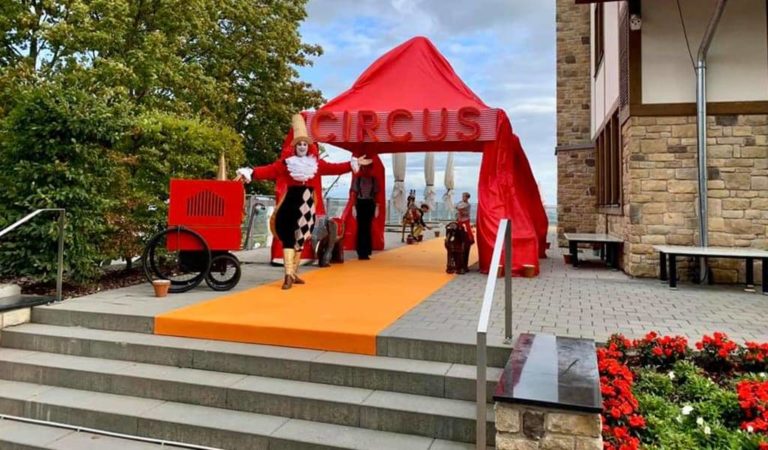 Für uns besteht ein perfekt geplantes Firmenevent nicht nur aus Location und Bewirtung, sondern wir gehen noch einen Schritt weiter. Bei uns erleben Ihre Gäste oder Mitarbeiter auch etwas zwischen idyllischer Weinberge: Weinerlebnisproben, Weinbergsrundfahrten oder doch lieber ein Teambulding Event? Wir bieten für jeden Geschmack das besondere Etwas an!
Wir planen für Sie
das perfekte Event
Das Eisstockschießen ist ein beliebter und geselliger Wintersport, den Sie jetzt auch auf dem »Hofgut Laubenheimer Höhe« ausprobieren können. Kommen Sie in einer Gruppe z. B. vor einem köstlichen Essen in unserer Weinbergshütte und betätigen Sie sich nach einem anstrengenden Bürotag sportlich. Zudem können Sie schöne runden auf unserem Eis drehen!!!
Der Wein ist das sensible Produkt der sorgfältigen Arbeit eines Winzers. In Rheinhessen bauen viele der TOP Winzer aus Deutschland ihre Weine an. Lernen Sie einen von ihnen persönlich kennen. Bei einer Weinprobe im wunderschönen Ambiente des Hofguts, probieren Ihre Gäste ca. fünf bis sechs Weine und kommen dabei dem Thema Wein näher. Als Geschenk gibt es eine besondere Flasche Wein aus dem entsprechenden Weingut.
Die Gäste begeben sich in Gruppen von 10-20 Personen zum Weinerlebnispfad. Dort gibt es fünf Weine aus den entsprechenden Weinbergen. Anhand der Weine und der Rebstöcke werden die unterschiedlichen Rebsorten praktisch und geschmacklich erklärt: Eine "Gaumenreise" vom Riesling bis zum Portugieser.
Vom Pfeil und Bogen schießen bis hin zu einer Bauernolympiade oder Seifenkistenrennen …
Für Ihre Veranstaltung planen wir mit Ihnen die adäquaten Events zum stimmigen Gesamtpaket.