Favorite Hotelinformationen
Here you will find all necessary information all around your stay in the FAVORITE.
In case you have any additional question, please do not hesitate to contact us!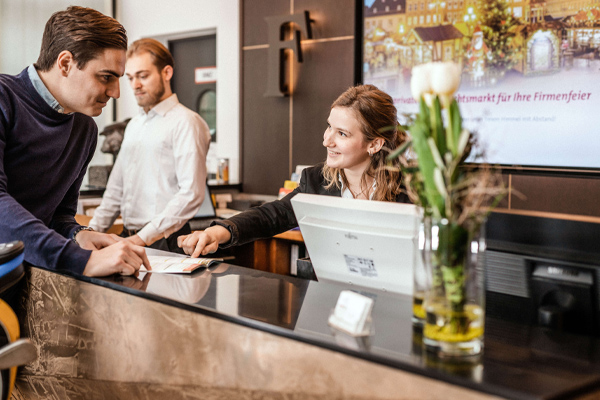 A
B
C
D
E
F
G
H
I
K
L
M
N
P
R
S
T
V
W
Z
A
Departure:
We kindly asked you to leave the room until 12:00 PM at the day of departure.
Alarm:
In case of an alarm, stay calm, our house is equipped with up-to-date technology.  In case of an emergency, a signal will sound. Please leave your room, the emergency procedures are to be found on your door. 

Allergic beddings:
Please let us know if you prefer having allergic beddings in the room. 

Pharmacy:
We will be happy to find a pharmacy for you. Just ask at the front desk.
Excursions:
An der Rezeption finden Sie viele Tipps, Anregungen und Informationen zu möglichen Ausflügen in der Umgebung. Wenden Sie sich am besten einfach an unserer Rezeption. Wir stehen Ihnen gerne mit Rat und Tat zur Seite. Zudem finden Sie unter "Spaziergänge" unterschiedlich lange Runden zum Laufen, sodass Sie sich optimal zurecht finden.
Doctor:
We will be glad to call our general practitioner or give you his phone number. Just ask at the front desk. 
Adapter:
If requested, our reception team is happy to provide one.
B
C
D
E
F
G
H
I
K
L
M
N
P
R
S
T
V
W
Z